...here, deleting spam...here's a recipe for a Tuscan soup. It contains sausage, though regular ground meat would work, too, if you didn't have the other, beans, spinach, small pasta, tomatoes, etc.
I will say that you could tweak it to your taste. For example, I've sent it to Ds, and we agree that dried Italian mixed herbs...to taste...would replace the fresh oregano just fine.
And, whatever beans, tomatoes, or pasta that you have is fine.
No fresh garlic or spinach? Use powdered or frozen. You get the idea.
You could make 1/2 the recipe.
One tip: Make pasta separately, and add to your bowl. That makes freezing better, and prevents overcooked pasta with reheating of the soup.
So, here it is, as written:
Tuscan Sausage Soup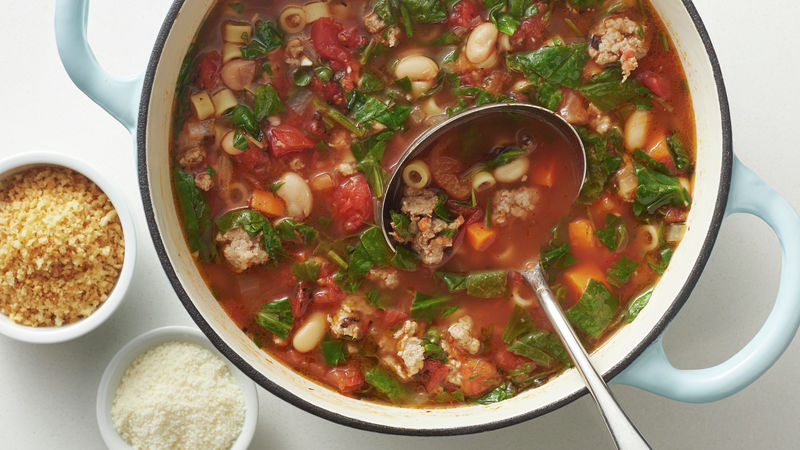 1 lb Italian ground sausage
1 cup chopped onions
1 large carrot, peeled, cut into quarters lengthwise and into 1/4-inch slices (about 1 cup)
1 tablespoon finely chopped garlic
1/4 teaspoon crushed red pepper flakes
6 cups Progresso™ reduced sodium chicken broth (from two 32-oz cartons)
1 can (19 oz) cannellini beans, drained, rinsed
1 can (28 oz) fire roasted diced tomatoes, undrained
Chopped fresh oregano
1 bay leaf
3/4 cup (3 oz) small ring pasta, such as ditalini
3 cups baby spinach, coarsely chopped
1 tablespoon olive oil
1/2 cup crispy bread crumbs
1/2 cup grated Parmesan cheese
1 Heat 5-quart Dutch oven over medium-high heat. Add sausage, onions and carrot; cook 8 to 10 minutes, stirring occasionally to break up sausage, until sausage is no longer pink. Stir in garlic and pepper flakes; cook 1 to 2 minutes or until garlic is fragrant.
2 Stir in broth, beans, tomatoes, oregano and bay leaf. Heat to boiling; reduce heat to medium-low, and simmer uncovered 10 minutes. Add pasta; simmer 8 to 9 minutes or until pasta is tender. Remove bay leaf, and discard.
3 Stir in spinach; cover and remove from heat. Let stand 5 minutes; stir.
4 Meanwhile, in 8-inch nonstick skillet, heat oil over medium heat Add bread crumbs; cook and stir 2 to 3 minutes or until toasted and golden brown. Remove from heat.
5 Divide soup among serving bowls; garnish each with cheese and toasted bread crumbs.