[img]
[/img]
[img]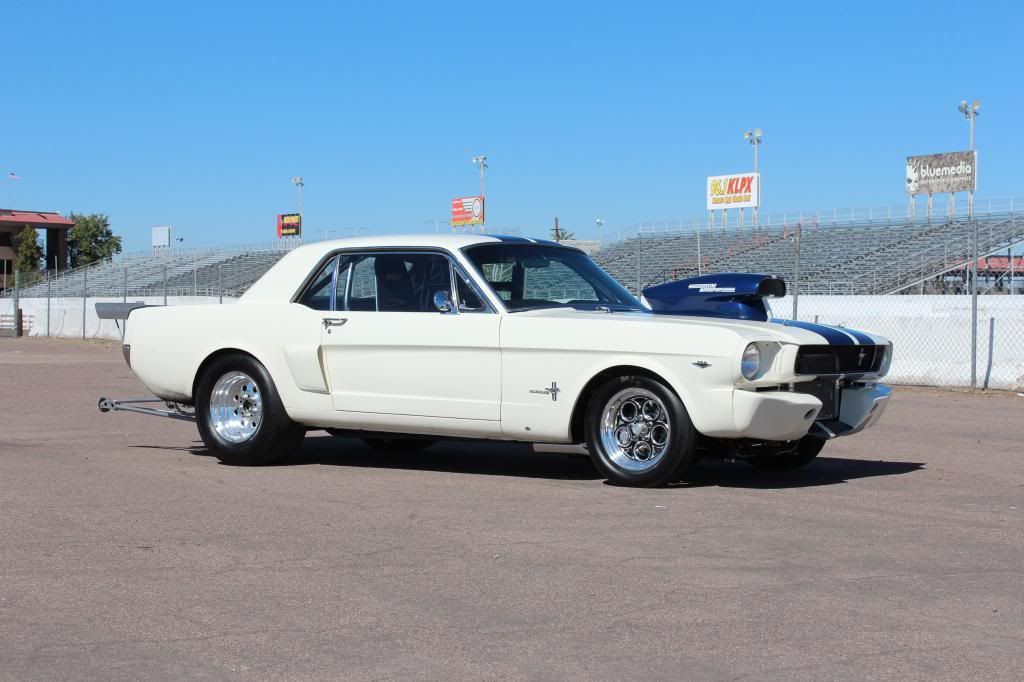 [/img]
All steel original Coupe with factory glass – 2800lbs wet without driver
- Ladder Bar/Mini Tubbed with 28X10.5 M/T Tire – Strange Double Adjustable
Coilover Shocks on Narrowed and Reinforced 9" with 35 Spline Strange Axles
(Big Bearing)
- 4.11:1 Pro Gears on Strange Spool and Nodular Housing
- 60" Chrome Molly wheelie bars
- 25.2 Mild steel funny car cage by Comp Chassis (Current Cert to 7.50)
- Strange Double Adjustable Strut Front Suspension
- Strange/Willwood Disc Brakes on Front/Rear – Champion Front/Weld Rear Wheels
- Simpson Parachute
- Speedwire Switch Panel/Control Board with Nitrous Relays
- MSD 6AL with 8979 Piggyback fully programmable Ignition
- Twin Kirkey seats with carpeting and stock dash/custom gauge configuration
Dart Iron Block 427 SBF
- Lunati Steel Crank
- GRP Aluminum Rods
- Ross Pistons
- Edelbrock Victor 77219 heads – Custom ported and machined to match Custom
Edelbrock Glidden Victor Lo-Port Yates Intake by Ford Performance Solutions
- T&D Shaft Rockers
- Custom Grind Camshaft by Cole Motorsports/Ford Performance Solutions
- Custom Nitrous Fogger by Induction Solutions
- Pro-Systems Dominator
- Power glide by Neal Racing Transmissions
- Neal Chance Converter
Car is fresh off of new build – everything but the body is brand new, and has only initial shake down runs (total of 8). Mild nitrous tune up produced back-to-back 8.84 @ 151mph at Firebird Raceway in Chandler, AZ. There is much more power to play with. Induction Solutions tune ups, and continued support goes to buyer, including all MSD programming.
Please see additional photos at:
http://s199.photobucket.com/user/fast65stang/library/Bess%20October%202013
Car is set up to run "B" Gas in PSCA/WCHRA/Unleashed Series, but can be changed to run multiple classes. I have owned and raced this car for over 25 years on the West Coast, including the early days at Terminal Island, Bakersfield, Palmdale, Carlsbad, and Vegas as well as all over Arizona and New Mexico. There is entirely too much to list, but I've covered the basics. Everything on this car has been custom made and either polished, powder coated or painted.
Custom EZ-GO Golf Cart/Pit-Tow vehicle painted to match car is included. This is as complete, BRAND NEW, and ready to race anywhere in the country as it gets.
Serious Inquires Only. $30,000 O.B.O.
480-797-3472