THE TEPIC AND NAYARIT, MEXICO JOURNAL
[ Post a Response | THE TEPIC AND NAYARIT, MEXICO JOURNAL ]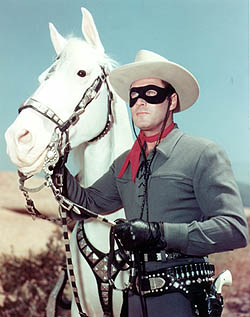 Matinee Day, the sequel...

Posted by Cliff on 7/27/2013, 6:27 am

Edited by board administrator 7/27/2013, 6:33 am


Hola all you lovers of 'Matinee Days' everywhere,

We wee laddies were part of the western scene lining up on saturday mornings at the Fox California Corral where the likes of Roy, Gene and Wild Bill Elliot were waitin' for us to pardner up before hittin' the purple sage trail and roundin' up those bad boys in those black hats, Lash Larue not included...Yippee Ki Yay!!! Get along little doggies...

Here at the BarBQ ranch, the damsel of the ranch is still in 'big bed' watchin' that newfangled TV gadget whilst ChaChi and little Luke are out rounding up strays...Pardners all and darned proud of it...I have just sharpened the straight edge with ye auld razor strap and am about to scrape the stubblefields while the galvanized wash tub is fillin' with that refreshin' well water...A tad chilly pardner but that's why we're called rough riders...Pass the Lava soap please!!!

Yesterday Alice and I moseyed on over to the Forum Ranch where they were havin' a little tex-mex BBQ...Bein' partial to the 'Tex' half, I had a slab of rare-steer molida held together by big buns while Mexicali Rose was having BBQ'd fajitas...Mighty good pickin's pardner...Alicia wore her little blue gingham dress she bought right out of the Sears catalog and was the cutest little heifer you ever did see...Talk about the yellow rose of texas!!! Yahoo!!! Ever howl at the moon when it wasn't up yet!!!

Well I guess it's that time when we hit the trail until day is done and we are darned proud of it, doin' the day that is!!! Y'all have a good one, ya hear??? See ya later pardner if not sooner..,

Adios compadres,

Ringo Cliffardo...