The S.S. Stewart banjo is in the hands of a private collector. Here is a picture of Josh Reynolds holding it. To Josh's right is Tom Guard, and the couple are Janet and Greg Deering.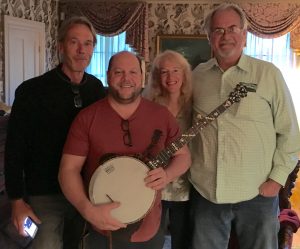 --Previous Message--
: The one I wonder about is the S.S. Stewart
: Universal Favorite that Dave got from Nick's
: dad and played before he got his Vega. He
: used that on the first album and the hungry
: i album.
:
: As for Bob, he told me he traded in his
: original B&D plectrum (the one he used on
: Tom Dooley) for a new Vega plectrum (I think
: the one shown on the String Along album
: cover). I wonder where that one is now.
: